Grupo de Investigaciones Biológicas de la Orinoquia GINBIO.
Categoría "C" Convocatoria 781 de 2017 de COLCIENCIAS 
Director
Oscar Andrés Rodríguez Fandiño
Biólogo, M.Sc. PhD en Ciencias Biomédicas
OBJETIVO:
Desarrollar investigación científica que contribuya a la caracterización de especies asociadas a los ecosistemas de piedemonte y sabana inundable presentes en el departamento de Casanare y la región de la Orinoquia, incluyendo aspectos de su ecología, biología y distribución geográfica. Adicionalmente tenemos como objeto desarrollar investigación en las áreas de parasitología e inmunología de vertebrados asociados a ecosistemas presentes en la Orinoquia Colombiana.
INTEGRANTES: 
Oscar Andrés Rodríguez Fandiño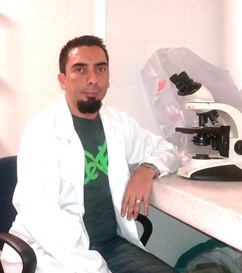 Línea de Investigación: Parasitología e Inmunología
Work email: direccioninvestigacion@unitropico.edu.co
Phone: (57) (8) 6320700
I am a biologist from the National University of Colombia, with a PhD in biomedical sciences from the UNAM in Mexico. I have focused my research on the exploration of the ecology and systematics of blood parasites in wildlife, especially in birds; although more recently I have been exploring some aspects of the immune response. For a couple of years, I have been thinking in the connection of both fields (fruitlessly, at least for the moment) and grow in an academic field called conservation medicine. I have worked as Unitrópico's research director for the last four years, but my profession and work experience always keep me linked to the educational and research spheres, beyond the administrative.
Research line: Parasitology and immunology
Research Experience:
Biomedical sciences
Conservation medicine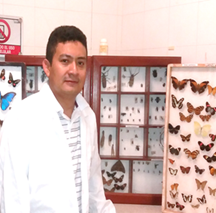 Línea de Investigación: Entomología
Work email: plurbanus@unitropico.edu.co
Phone: (57)3232042989
A committed Biologist with a master's degree in Biological Sciences, with significant experience in university teaching and formulation, execution and evaluation of research projects in Biology and Ecology sciences. My main interests as a researcher are related to the basic and applied aspects of the Ecology and biology of Neotropical Insects, particularly with plant interactions and the study of determining variables in the distribution and abundance of insects in natural and fragmented ecosystems. I have a comprehensive training and development skills to evaluate, formulate, execute and conduct basic research projects focused on recognition ad knowledge of species, management of natural resources and implementation of new practices for the study of biological diversity.
Research line: Entomology
Research Experience:
Structure and dynamics of tropical ecosystems.
Plant-animal interaction
Inter- and intra-specific Neotropical Insect relations.
Population dynamics and distribution of insect vectors.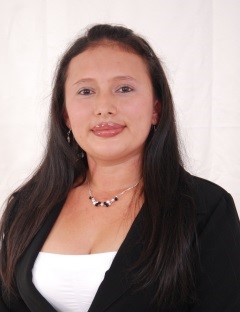 Línea de Investigación: Botánica y etnobotánica
Work email: luzsuarez@unitropico.edu.co
Phone: (57) 3133523054
 Bachelor's degree in biology specialized in genetics. Unitrópico.
Teacher, researcher and project advisor in Biology and related areas.
Director and advisor in environmental entities, botanical gardens, natural parks and zoos.
Consultant in environmental impact projects.
Deeply concerned in botany and ethnobotany, Research interests and skills to perform ethnobotanical studies, inventories and characterization of relevant vegetation and its composition, structure, distribution and ecology.
Research focus: Botany and ethnobotany
Research Experience:
Casanare's Flora Collection project, which is being done in Unitrópico.
Establishment of the Botanical Garden of Orinoquia JABO. Unitrópico.
Flora Piedmont Inventory in the Department of Casanare, Unitrópico.
Savannas of Zurales flora inventory in the department of Casanare. Unitrópico & Montpellier University in France.
Peasant and Indigenous Ethnobotany in Casanare communities. Unitrópico.
Sustainable Production Proposal, Youth and post peace accord as a result of identified rural training needs for young leaders. Diagnosis of three rural communities of Casanare. Unitrópico & Stoas Vilentum University in Holland.